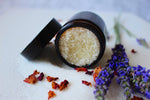 Sugar is something we all want to AVOID in our diets, BUT when it comes to our skin…..
you may want to consider using a sugar scrub in your skincare routine.

Sugar :
1. Natural humectant it draws moisture from the environment into your skin. Applying sugar scrub to your skin helps hydrate and keep the moisture in the skin.

2. Natural glycol acid that penetrates the skin & generates a fresh, you'll, glowing skin.
Great to help with sun damage
Great to help with aging skin

3. An excellent gentle exfoliant. It works well to slough off those dead skin cells & reveal healthy glowing skin.
4. Sugar scrub can be a secret weapon against ingrown hairs.   Sugar scrub also discourages ingrown hairs and bumps. By using a scrub 1-3 times per week (depending on skin type) on the areas where ingrown hairs appear, you allow the hairs to protrude high above the skin and get a smoother closer shave and this prevents the hairs from curling up under the skin.

(My Opinion)
Sugar's Advantage over Salt Scrubs:
1. Gentler on skin
2. Salt Scrubs can create micro tears on the skin (due to size and shape of granules)
3. Salt can strip the oils from the skin
4. Sugar is a natural moisturizer
I personally, love using brown sugar on my face because of it's gentler and softer feel.  Since I suffer from sensitive skin and eczema, I gravitate toward gentler options on my face. And personally, love smell of Brown Sugar. I love Pure cane sugar (white) for the rest of my body because  it is slightly more coarse.
To take advantage of those great moisturizing properties sugar has to offer, I like to scrub the sugar on my skin in a circular motion, allow the sugar to settle in and then shampoo & condition my hair, by this time almost all the sugar has melted into my skin to allow maximum hydration.  Then, I rinse of and when I get out of the show, I am sure to pat dry not rub the skin. Voila! Glowing Skin!
The key to glowing skin is consistency & exfoliating regularly at least 1-2 times per week, it's really all about consistency! I live in a dry climate so in winter, I sometimes may exfoliate 3 times a week.  This isn't for everyone.  It is what works best for my particular skin.
And as always be sure to follow up with a good sunscreen after exfoliating. You just revealed your new healthy skin to the world, best not to expose it to those damaging sun rays.
Check out our products!   We use fine grain sugar granules to ensure a nice exfoliation for our delicate skin types.   And we have a vast selection of aromas to suit everyone's needs.
Thank you for taking the time to read our blog.