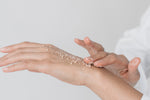 What is Sugar Scrub?
Is a face and/or body product that can be used to physically exfoliate dry, dead skin cell build up from the skin. What is exfoliation Sloughing off dry dead skin (exfoliating)  promotes the appearance of soft, smooth skin.  Use a sugar scrub 1-2x per week. When applying sugar scrub, massage the skin gently enough to remove the dry skin, but not hard enough to cause rash or irritation.  Let the sugar & ingredients do the work to exfoliate.  I can't stress enough that heavy massaging  or over massaging can cause irritation to the skin.  The key to applying sugar scrub is to gently massage and allowing the ingredients absorb into the skin.
Let that sugar sit on skin for 1-2 minutes.  Sugar is a natural humectant (means it retains moisturize) and is a natural moisturizer.  Sugar scrubs can offer an effective method to gently soothe, smooth, and moisturize dry skin.  If a sugar scrub contains the proper ingredients, it can be a powerful multitasking skincare product. Using a sugar scrub should reveal a brighter, smoother complexion and skin texture. Exfoliation is just one step in a healthy skin care routine. What you do after exfoliation is just as important. Every time you exfoliate, be sure to protect your skin by applying a rich moisturizer made with natural ingredients. This helps your skin to be healthier and help reduce stress and damage, as well as limit the chance of infection. Be sure to use moisturizing products made specially for sensitive skin, preferably ones that are free of dyes, synthetic fragrances/perfumes and alcohol. These steps will not only skin looking good, but feeling good, and best of all itch-free.
Why use a sugar scrub?
Why use a sugar scrub: A sugar scrub works amazing for dry skin types and help ease conditions like eczema, psoriasis or other dry skin conditions.  If you have flaky, crusty eczema on your hands, feet, body or scalp, a sugar scrub may be supplemental solution to add to your skincare regimen. 
How do I Sugar scrub?
How to use sugar scrub: Wet your skin (cool/lukewarm water), gently massage the sugar scrub all over. Let it sit for 1-2 minutes (while you shampoo/condition).  Then rinse thoroughly with cool or lukewarm water and pat dry (you already exfoliated don't rub the towel hard on your skin, it may cause irritation… pat the towel on the skin).
Additionally, If you skin is very parched you can use sugar scrub as a hydrating mask.  The difference is you are going to let it sit on the skin for 5-10 minutes and then rub and rinse.  Sugar is a natural humectant (this means it is moisturizing)
How often should you use Sugar Scrub?
Use How often: 1-2x per week
PRO TIPS: 
Skincare: Must Do's:
Hydrate Well

Maintain Healthy Diet loaded with fruits, vegetables and healthy fats

Meditate/Yoga/Exercise: reduce stress

Moisturize Daily - recommend immediately after a shower, and be sure to moisturize 2-3 times per day

Exfoliate 1-2x per week

 
Wellness: What To Avoid:
Don't Exfoliate Everyday

Don't Use Chemical Peels

Don't Scrub Too Hard

Don't Exfoliate Weeping or Oozing Wounds

Do not use detergents, soaps, shampoos and products with harsh ingredients

Avoid any product that contains the term "fragrance"

Reduce/Manage Stress

Do not use extremely hot water

 

Avoid sunburns
For Best Results : Soothe + Smooth + Support
Mix and match products below.

 
Use a Sugar Scrub, Body Oil, and Lotion to get your best results.
SHOP AT:

 

   

https://www.cleancoconut.com/collections/skin-care
Sugar Scrub

Face & Body Oil

Face & Body Lotion

Multiply Your Results

 

Exfoliate 1-2x per week

 

After shower moisturizer

 

As needed through out the day moisturizer

 

Use sugar scrub 1-2x per week.  Body oil after each shower and in the evening, and lotion as often as needed (at least 2-3x per day during a flare up)